Administrators – Users – Recent changes – New pages – New files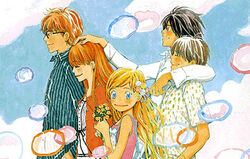 Honey and Clover Wiki is using MediaWiki version 1.19.24.
There are 86 articles, and 828 pages in total.
There have been 1,398 edits.
There are 255 uploaded files.
There are 0 active users in this wiki, including 1 administrators.
Honey and Clover Wiki is an encyclopedia about the manga by Chica Umino, and it's anime and live-action adaptations. The series ran from June 2000 to July 28, 2006 in three different magazines, CUTiEcomic, Young You and Chorus.
The wiki was founded by Winterdawn on May 3, 2012 before being adopted by Samanthafan09 on August 31, 2015. Anyone is welcome to help make this wiki the best about Honey and Clover.